At Taree Off Road we stock and install Rhino-Rack – The World's most useful roof racks!  Rhino Rack make durable and easy-to-use roof racks, luggage boxes, bike carriers, kayak carriers, load securing accessories, awnings and more. With customised products and the latest in carrier technology, you can rely on Rhino Rack to transform your vehicle for work, play, or anything in between.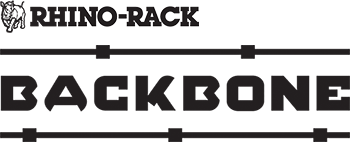 The Rhino-Rack Backbone is fitted to the factory roof mounting points or directly to the roof of your vehicle and distributes the weight of your luggage more evenly through the body of your vehicle. It's ingeniously simple and perfectly complements our full range of Pioneer platforms.
The Backbone is one concept that comes in two systems and a variety of combinations to suit your needs and preferences. With up to 8 contact points the backbone system distributes the load over the vehicle. Additionally, the Rhino-Rack Backbone enables you to carry up to 331lbs/150kg on some vehicles. Non-corrosive made of strong and durable stainless steel or cast aluminum with a black powder coated finish to match seamlessly with our Pioneer Systems.
Phone us or call into our showroom to discuss roof rack options for your vehicle and particular application.
Click here to watch Rhino Racks in action!